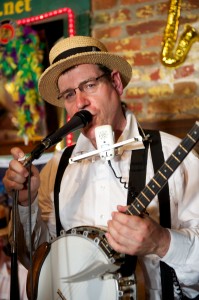 november 2012
DUTCH VERSION
In Memoriam Nico Janssen
Met diepe droefheid brengen de leden van de Oakcity Jazzband U op de hoogte van het overlijden van Nico Janssen.
Als stichter en bezieler van onze band was hij de drijfveer achter het muzikale succes van de Oakcity tot ver buiten de landsgrenzen.
Zijn krachtige stem en imposante presence gaven de band een unieke uitstraling en zorgden voor een sterke betrokkenheid met het publiek. Hierdoor ontplooide de Oakcity Jazzband zich als een zeer geliefde en veelgevraagde Dixieland-band bij organisatoren in binnen-en buitenland, zeer vaak als publiekslieveling op menig festival.
Nico's gedrevenheid en organisatorisch talent brachten de Oakcity Jazzband op honderden podia o.a. in Dresden, Kopenhagen, Breda, Dusseldorf en New Orleans.
De talrijke intense muzikale belevenissen zijn onvergetelijk en blijven voor altijd in ons geheugen.
Wij missen Nico ontzettend en dat zal zo blijven.
De leden van de Oakcity Jazzband zullen met veel trots en weemoed hun muzikale vleugels blijven uitslaan als eerbetoon en levende herinnering aan hun vriend en leider Nico Janssen.
Namens Frank, Gaene, Hubaer, Jo, Maurice en Lieven.
FRENCH VERSION
In Memoriam Nico Janssen
C'est avec une peine immense que les membres de l' Oakcity Jazzband vous annonce le décès de Nico Janssen.
En tant que fondateur et inspirateur de notre band , il était la force motrice de Oakcity bien au-delà de nos frontières. Sa voix puissante ainsi que sa présence étaient à la base de la réputation du band et formait un lien unique avec le public. Grace à lui Oakcity c'est développé comme un Dixieland- Band fort apprécié et est demandé par beaucoup d'organisateurs en Belgique comme ailleurs. Souvent le Band s'est avéré être l'enfant chéri du public.
L'enthousiasme et le talent organisateur de Nico ont mené le Band sur des centaines de scènes ea Dresde , Copenhague , Breda, Düsseldorf, la Nouvelle-Orléans…
Ces nombreuses expériences musicales resteront à tout jamais dans nos mémoires.
Nico nous manque déjà et nous manquera toujours.
C'est avec fierté et mélancolie que les membres de l'Oakcity Jazzband continueront à déployer leurs ailes musicales .Ceci par respect pour et en souvenir de leur ami et dirigeant et Nico.
Frank,Gaene,Hubaert,Jo,Maurice et Lieven.
GERMAN VERSION
In Memoriam Nico Janssen
In tiefer Traurigkeit, berichten die Mitglieder der Oakcity Jazzband Sie über, den Tod von Nico Janssen.
Als Gründer und Kraft unserer Band, war er die treibende Kraft des Erfolges der Oakcity Jazzband weit über die Landesgrenzen hinaus.
Seine kraftvolle Stimme und imposante Präsenz gab der Band einen einzigartigen Look und machte ein starkes Engagement für die öffentlichkeit Zugänglich. Dieser Einsatz der Oakcity Jazzband macht sich als eine sehr Beliebte und gefragte Dixieland Band für die Organisatoren, zuhause und im Ausland, sehr oft Publikumsliebling auf vielen Festivals.
Nico's Begeisterung und Organisationsfähigkeit brachte die Oakcity Jazzband auf hunderten von Veranstaltungsorten wie das Dixieland Festival Dresden, Kopenhagen, Breda, Düsseldorf und das French Quarter Festival im New Orleans. Die zahlreichen Intensiven musikalischen Erfahrungen sind unvergesslich und werden für immer in unserem Gedächtnis bleiben.
Wir vermissen Nico und das wird auch so bleiben.
Die Mitglieder des Oakcity Jazzband werden mit Stolz und Melancholie immer ihrer "Musikalische Songs that keep swinging" als Tribut und lebendigen Erinnerung bringen an ihren Freund Gründer und Musiker Nico Janssen.
Im Namen Frank, Gaene, Hubaer, Jo, Maurice und Lieven
ENGLISH VERSION
In Memoriam Nico Janssen
It is with great sadness that the members of the Oakcity Jazzband announce the demise of Nico Jannssen.
As the band's founder and inspiration, Nico was the driving force behind Oakcity's musical successes in Belgium and far beyond. His powerful voice and unique charisma gave the band its unique appeal, which allowed us to build a strong connection with our audiences. This led the Oakcity Jazzband to become a much loved and often requested Dixieland-band among organizers both at home and abroad, frequently becoming the audience favourite at festivals.
Nico's exceptional drive and organizational talent brought Oakcity Jazzband to hundreds of concert venues, among others in Dresden, Copenhagen, Breda, Dusseldorf and New Orleans. These countless, intensely musical experiences are unforgettable: they will remain in our memory forever.
Nico is terribly missed. His absence will be felt for years to come.
The members of the Oakcity Jazzband will continue to spread their musical wings with a melancholy pride and perform as a living tribute to their dear friend and leader Nico Janssen.
On behalf of Frank, Gaene, Hubaer, Jo, Maurice and Lieven
&nbsp